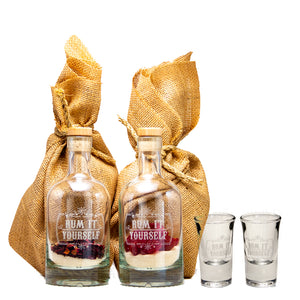 Ingredients: Dried strawberry, bissap.
We have brought together in this box sweet and greedy flavours that will please everyone, and for a better tasting, we have added two shot glasses.
Strawberry Rum:

Very fruity with beautiful red colours, this strawberry rum will please everyone. Macerating strawberries in the rum will give a more authentic taste than if you used syrup or a liqueur.

Bissap Rum:

With its slightly acidic red fruit aromas, this flower has many health benefits. More important, Bissap rum is ready very quickly and will allow you to test your skills before tackling some more elaborate recipes. And we like that!
Maceration:
Strawberry Rum: 2/3 months
Bissap Rum: 2/3 days
Note: for legal reasons, we are not providing the rum, but we give you some advice on which is the best rum for your creations

 

(see our FAQ).
Volume of the bottles: 375ml - 12oz